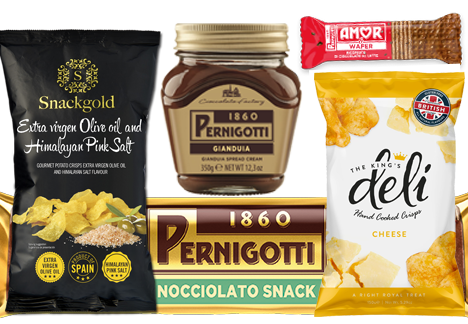 ---
Raneed Trading
---
Raneed is one of the leading confectionary shops first established in 2006. It offers a vibrant and various range of chocolates, sweets and chips imported from America and Europe to meet the changing and developing tastes of the modern Saudi costumer.
To ensure product uniqueness, Raneed stands out by taking exclusivity over most of its provided products, therefore offering the Saudi market a wider selection of goods than what is usually available in the market. To ensure products safety, uncompromised taste, and freshness of its perishable goods, Raneed owns two level warehouses strategically located and stretching over 3000 square meters. The warehouses include a 1000 square meters refrigeration area, efficiently run by a full time 24/7 staff to accommodate large volumes of goods with ease.
---
Raneed's Vision
---
---
---
To create a reliable retail chain that provides unique confectionery goods attracting customers, suppliers, and key industry players of HORECA on a local and international level.
Raneed's Mission
---
---
---
To provide a unique set of products that becomes a part of the customer's lifestyle, cultivating happy memories and good times, through all sections of demographics from youngsters to golden-agers and later on.
Raneed's Values
---
---
---
By being driven and ambitious we work on building association and connection with our customers. We share with them all of the stepping stones, from their very first unraveled sweet, to the ones they share with their own family and loved ones for years to come.
Raneed is a Product-Oriented business. We aim to offer the best goods at the best locations. Our main goal is to expand our supply chain by having our kiosks and shops centered in the highest footfall places. Raneed will be the main medium between the American and European products we supply and the customer. Through being accessible and easy to reach, we can foster loyalty and commitment from our customers.
Raneed is the sole exclusive provider of most of its products! We offer unique items, high-quality, and a wider selection of American and European confectionary goods that you can't get locally anywhere else.
Raneed has the competitive advantage of being strategic when it comes to location. We are expanding in places that foster growth and quick access to the target market. Our shops and kiosks are found in many synergic places in various regions. We provide our products in popular malls, public and private hospitals, and schools and colleges alike. This makes us vigorously available and expand our market share.
---